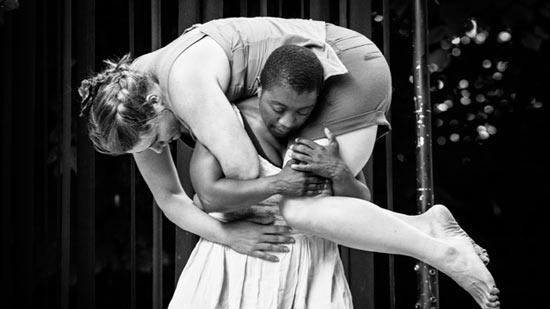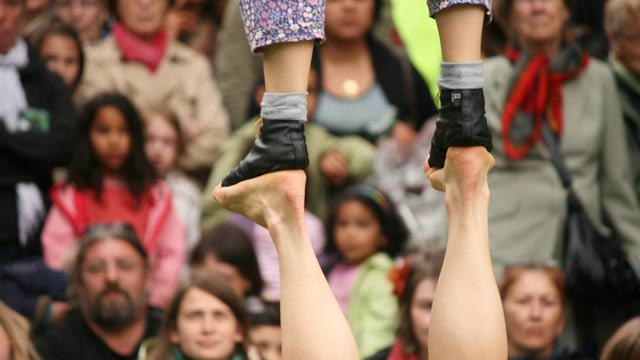 The Team
Director: Lina Johansson
Choreographer: Silvia Fratelli
Composer: Bela Emerson
"A physical tale of four women and what makes them who they are. There is no such thing as a perfect body, but each one is extraordinary. From the UK's premier all female street theatre company, using acrobatics, dance and humour, Falling Up celebrates the beautiful reality of every body.
Falling Up
Bela was commissioned by Mimbre acrobats for their touring street theatre show, Falling Up.
It toured the UK and Europe with Bela's specially composed soundtrack receiving funding from the PRS Foundation.
Mimbre is a female-led company creating nuanced, breathtaking and highly skilled acrobatic theatre. We use circus and dance innovatively as a physical language to illuminate human connections and promote a positive image of women.
Watch the video below…
A medium scale acrobatic theatre production designed for audiences on the street, in parks and squares or any other public space. Pick a character and follow her story, from solo performance to beautiful finale, as she explores her weaknesses and her amazing strengths. The audience will move around the perimeter of the performance space, beginning in four groups each following one performer. As the characters meet so the four audiences come together into one crowd, watching one story."
The Team
Director: Tereza Buskova
Composer: Bela Emerson
Make-up, props: Tereza Buskova

The disquieting dreams of contemporary Bohemian and British artists are united with documentation of the Moravian people of Ratiskovice faithfully practicing their rural traditions. Through this, Spring Equinox presents shifts in nature, individuals and society.
Cast: Residents of Ratiskovice in Moravia, Czech Republic; Zoe Simon UK; Eliska Kasparova CZ & Honza Malik from Czech dance company NANOHACH; Lights/photography: Jan Komarek CZ; Music: Bela Emerson UK; Editing: Stifani brothers UK; Costumes: Mariana Novotna CZ; Assistant: Hana Buskova CZ.
Voyaging Out
video by

Marco Crivello
 The evolution of a single painting – Opened Ground.
Additional feature accompanying the short documentary Threshold, focusing on the contemporary landscape artist marco crivello.
Music by Bela Emerson.
Commissioned by Four Square Fine Arts.
Filmakers Last Bus.
Contact Bela About Composing
"If you have an interesting project – I would very much like to hear about it.
Contact me here."